Groundbreaking vegan zero waste market is back in London!
After the roaring success of London's first zero waste vegan market last summer, Zero Mkt London is back on the 13th April -and it's even bigger, with nearly 50 stalls selling plant-based, zero waste products! We managed to grab five minutes with the co-founders, Abigail Penny and James Morgan, to find out what this lifestyle is all about and how we can all do our bit to make the planet a better place for animals and humans alike.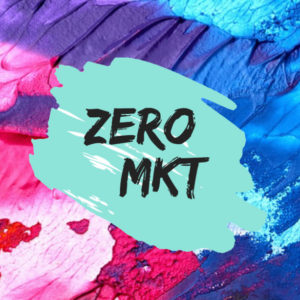 Q: What is zero waste and how easy is it to live this way?
Zero waste, in its simplest form, is about diverting products from landfill. But it's also so much more than that! It's a vision for a better future; it's about living mindfully and consciously by avoiding food waste, single-use plastics and unnecessary consumption. It's also an aspiration to move to a circular economy, where products are redesigned to be resourced and reused.
It's not always easy and it can take some time to adopt new habits, but it's all a journey and that's the joy of it! Eco swaps can be simple and affordable; begin by using a bamboo toothbrush, taking hemp / cotton bags for your groceries, using coconut oil to remove your make-up, making your own oat milk and composting leftover food.
At this year's Zero Mkt London we'll be running free talks and workshops throughout the day, led by experts like vegan zero waste chef, Max La Manna, and eco haberdashers, Offset Warehouse! They'll be showing us how we can live more sustainably and will be sharing easy life hacks that will minimise our impact on the planet.
Q: Why is it important to try zero waste, vegan living?
Zero waste, vegan living is a brilliant way to help the planet. Not only would a shift towards plant-based, zero waste living massively help to curb climate change, it would also reduce the amount of plastic floating around in the oceans, killing wildlife and damaging the environment. The movement also reduces food waste – a huge emitter of greenhouse gases – and shuns animal agriculture, one of the leading causes of climate change, deforestation, species loss, as well as land, water and air pollution.
Combining the plant-based and zero waste movements paves the way for a positive, sustainable future.
Q: Is it expensive to be zero waste and vegan?
By thinking creatively, and knowing what to buy, this lifestyle shouldn't cost you any more than you would otherwise be spending.
My top tips would be: buy second-hand, reduce food waste, buy in bulk, grow your own food, buy seasonal produce, make your own cleaning products and organise a clothes or children's toy swap with friends!
Q: What stalls can we expect at the market and what type of products will they be selling?
Dedicated to all things eco, Zero Mkt London is a "one-stop shop". People will be able to buy bulk grains and fresh produce, detergents, organic baby-wear, reusable nappies, upcycled accessories, soaps, candles, cosmetics, artwork, vintage clothing and much, much more – all under one roof! There will also be several charities there to help educate on the crucial issues, including Animal Equality.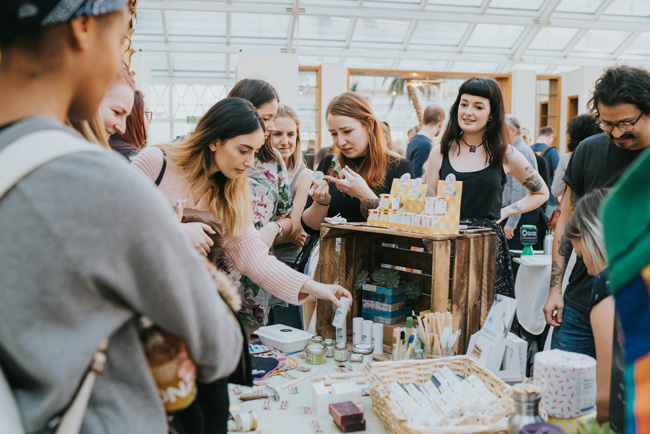 Photo Credit: @graceelizphoto
Q: Most importantly, will there be food at the market?!
There will be food for everyone and everything is vegan: hot dogs, burger, pasta, curry, sausage rolls, kebabs and Caribbean soul food – you certainly won't go hungry! For a sweet treat we'll have cake-in-a-jar, brownies, croissants, and so much more. Your taste buds won't know what hit 'em!
Zero Mkt London will be held on Saturday 13th April (10am-5pm) at Saint Thomas More Language College in Chelsea, London (SW3 2QS). Any profits will go directly to Animal Equality and surplus food will be given to City Harvest London who will distribute it amongst London's poverty circuit. Leftover food will be composted and used by the school's Gardening Club. Tickets are free, so get yours today!
Sign up
Receive our free e-cookbook plus email tips & support.