Training for a marathon? Here's how to power yourself with plants!
Today we're talking about training on a plant-based diet. Why? Well, the London marathon is fast approaching and we have an amazing runner competing in the gruelling race for us!
Fuelling your body and preparing for a tough race on a plant-based diet is super easy and cheap. Plant-based foods are great for your cardiovascular health, which is especially useful when you're running long distances, and it offers shorter recovery times too.
Plant-based staples like grains, tofu, legumes and root vegetables will not only provide protein but also complex carbs for long runs or cardio exercise. And the best bit? Plants are full of fibre and – aside from nuts, seeds and oils – they have fewer calories than meat and dairy products, so you can eat larger portions! To power you over the finish line, here are a few tips for healthy eating in the run up to an endurance event.
Porridge for breakfast is a must. The oats will release energy slowly throughout the day. The complex carbs are perfect when preparing for a hard workout. Adding fruit, nuts and seeds will add extra nutrients, including omega 3, fibre, vitamins and minerals.
Or how about a vegan fry up with protein rich beans, sausages and scrambled tofu and homemade hashbrowns for a carb hit?
For lunch you could knock up some falafel burgers with coleslaw, a rice bowl with tofu and avocado, or a beetroot hummus sandwich.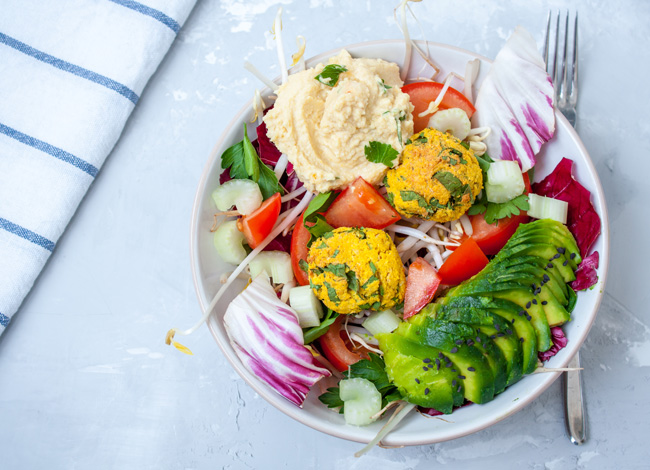 For dinner how about a chickpea curry, a tofu stir-fry, a thai red curry with cauliflower rice, a spinach dhal or a burrito filled with protein rich beans and sweet potato.
Whole food snacks like nuts, and dried fruit like dates, are great to fill you up and sustain you between meals without consuming useless calories.
Remember on race day to eat protein and simple carbs like bread, almond or peanut butter, fruit or a smoothie. Water, sports drinks and energy gels are great just before the start gun fires.
So whatever you're training for, you can be sure that a plant-based diet will fuel you until you reach the finish line. Plant power!
Sign up
Receive our free e-cookbook plus email tips & support.