The vegan revolution is upon us!
It's happening guys! You can now go into any supermarket and find unbelievably tasty products. Thanks to you demanding delicious vegan food, its on offer and fewer animals are suffering. 
How about a ready-made chocolate cake? Just Love Food Company have created a super convenient chocolate cake perfect for celebrations…or just regular Monday nights! You can find it in Tesco, Asda and Sainsbury's. Don't fancy an entire cake? (you must be crazy), well Sainsbury's and Waitrose now also stock Oggs mini sponge cakes in salted caramel, chocolate fudge and zesty lemon flavours. Made with aquafaba (chickpea water!), instead of eggs, chickens don't have to suffer and you can enjoy a delicious treat. Win-win! Morrisons is also getting in on the vegan pound with their red velvet and chocolate cupcakes and we also hear that Mr Kipling will soon be launching its own range of vegan cakes. What is happening!?!
We're also excited to welcome several new fish alternatives to our lives. Morrisons is now selling Loma Linda Tuno in spring water, mayonnaise, lemon pepper and chilli. And Quorn has launched both battered and breaded fishless fillets!
Photo: Morrisons/Huff Post
Plant-based cheese is getting better and better too. Waitrose now has its own brand cheese slices, as well as soft and hard cheeses, and you can find No Moo-zarella sticks as part of Morrisons' V Taste range. Not-zzarella sticks are stocked in the Marks and Spencer Plant Kitchen range, which has also expanded to include desserts like Churros and chocolate mousse!
And that's not all. In Tesco you can find The Free From Kitchen Co. Rich Brownie Chocolate Slab and the brand new Goodfella's vegan spicy vegetable salsa pizza, also available at Sainsbury's. Asda too have a new pizza in their range: veggie feast with vegan mozzarella, plus you can get the Pizza Express vegan house light dressing to have on your side salad. And, as if that's not enough, Morrisons has added a BBQ pulled jackfruit pizza to its pizza counter!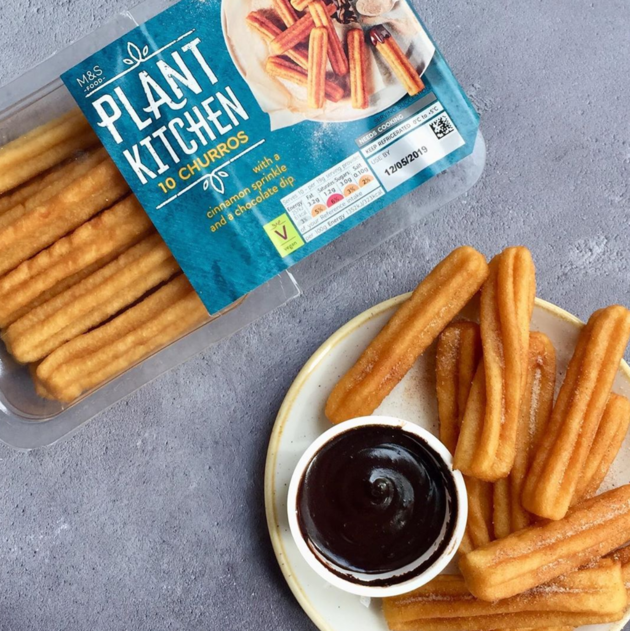 Photo: Marks and Spencer
Finally, joining the ever expanding Waitrose vegan range this month are The Vegetarian Butcher NoChicken Burgers and Gü Spanish Lemon Cheesecakes. Their own brand vegan range is growing too, with mushroom and leek and cocktail sausages, Lincolnshire style and creamy cheese and chive sausage rolls and a vegan pasty. And, if BBQ season ever arrives, this summer you can get Italian and Spanish Style Cumberland Sausages, Korean inspired vegetable burgers, Tandoori kofta kebabs and seitan patties (the first of their kind in UK supermarkets!) – all available online and in store in Waitrose. Meat lovers will also be pleased to find BBQ ribz in Sainsbury's, made by tempeh company Plant Power, and several new products in Aldi's vegan range, including Mae's Kitchen No Sausage Rolls, No Beef Burgers, No Chicken Burgers and Superfood Burgers. They also now stock Hellmann's and Flying Goose vegan mayonnaise.
There are so many new things to try right now, we don't know where to start! Tell us which ones you've tried and what you think in the comments below.
Sign up
Receive our free e-cookbook plus email tips & support.