It's World Vegetarian Day! And we have a menu to knock your socks off.
To celebrate this day of all things vegetarian we've compiled a menu made up of our current favourite veggie dishes that make the most of British Autumnal ingredients. Try them at home and tell us what you think in the comments section below!
This pulled celeriac burger is meaty, smoky, sweet and so very tasty. Sure it takes a couple of hours to cook, but it's so worth it. Serve with an avocado slaw for maximum effect!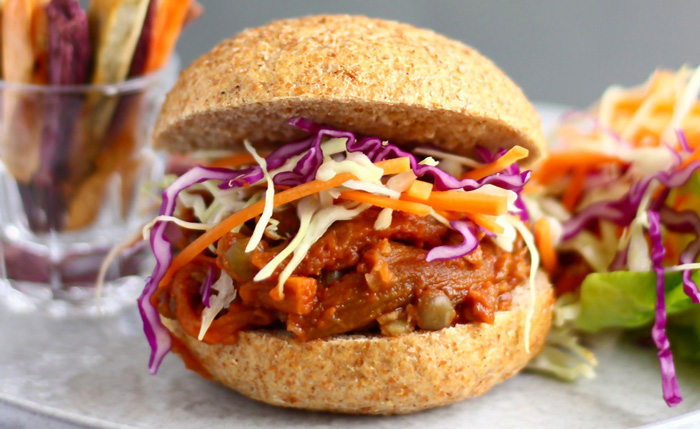 Pulled celeriac burger with avocado slaw
Ready in 2 hours 30 minutes. Serves 4
Ingredients
1 medium sized celeriac, peeled and cut in half
1 tbsp olive oil
4 bread rolls
For the BBQ sauce
400g passata
3 tbsp maple syrup
3 tbsp soy sauce
2 tbsp apple cider vinegar
1 tbsp tomato puree
1 tbsp olive oil
2 tsp smoked paprika
2 tsp garlic granules
few drops of liquid smoke
For the avocado slaw
½ avocado
½ lime, juiced
1 tsp white wine vinegar
1 tbsp chopped coriander
50g white cabbage, finely shredded
50g red cabbage, finely shredded
1 medium carrot, peeled and finely chopped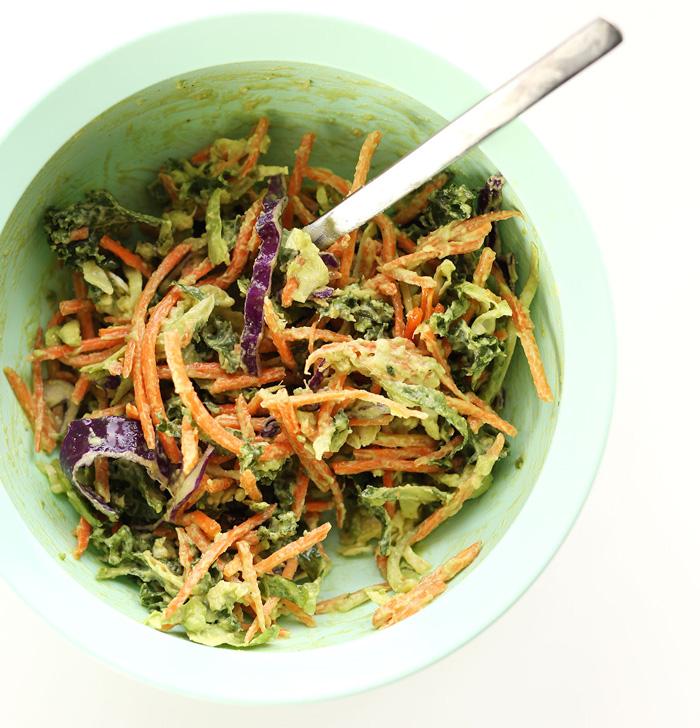 Method
Preheat the oven to 180°C. Place the celeriac on a medium baking tray and drizzle with oil. Rub seasoning all over, then cover in foil. Bake for 20 minutes.
Make your BBQ sauce by mixing all the ingredients in a bowl. Remove the celeriac from the oven and pour over half the sauce. Cover again with the foil and place back in the oven for an hour.
Remove the celeriac from the oven again and start to gently pull it apart with two forks. pour over a little more of the sauce and cover again. Bake for a further 30 minutes. Remove from the oven, pull again, pour over a little more sauce and bake for a final 30 minutes. Pull again and gently stir everything together, scrapping in the dark sticky edges.
Whilst the celeriac is cooking, add the avocado, lime juice, white wine vinegar and 4 tbsp water to a blender and blitz until smooth. Add the coriander and season well, then briefly blitz again. Add the cabbage and carrots to a medium bowl and pour over the avo dressing. Stir together until completely coated.
To serve, layer the coleslaw and celeriac between the bread rolls. Add some crunchy iceberg lettuce and more BBQ sauce if desired.
Sweet Potato Fries
Crispy and sweet, these fries taste so much better than regular fries, and are better for you too!
Ingredients
Olive Oil
4 sweet potatoes, peeled and sliced into chips
1/2 teaspoon paprika
2 tbsp salt
2 tbsp black pepper
2 tbsp garlic powder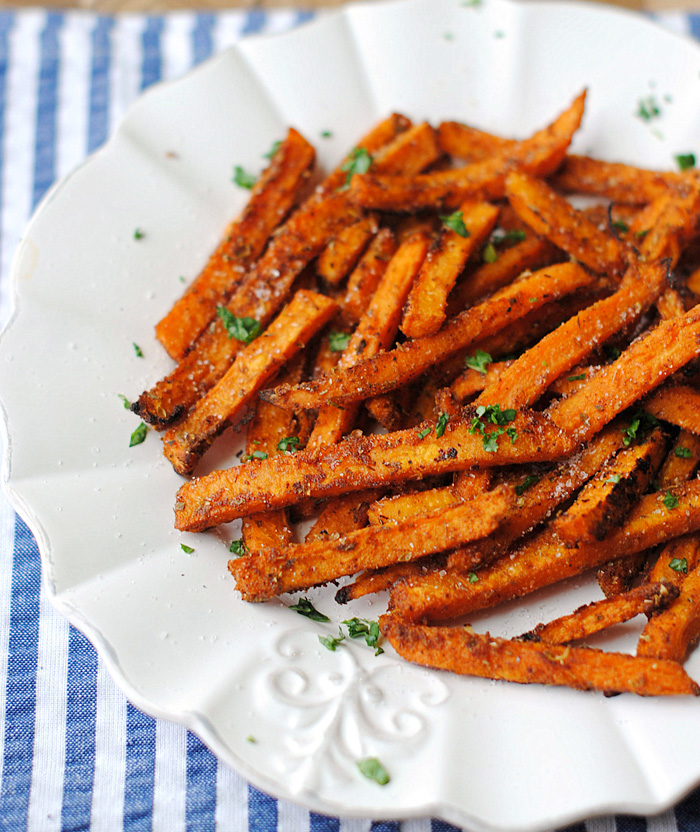 Method
Preheat the oven to 200 degrees and line a baking tray with foil or baking paper.
In a large bowl mix the sweet potato chips with enough oil to coat them. Sprinkle with the seasoning and spread the chips in a single layer on the tray. Bake until the sweet potatoes are tender and golden brown, turning occasionally for about 20-25 minutes.
Serve on the side with the pulled celeriac burger and avocado slaw.
Apple and Pecan Strudel
Nothing screams autumn like apple strudel. This one is made with warming cinnamon, sweet dark sugar and crispy filo pastry. Simple to make and super tasty.
Ready in 45mins. Serves 4.
Ingredients
4-5 small sweet eating apples
juice of ½ lemon
80g vegan butter
4 sheets filo pastry
150g chopped pecan nuts
ground cinnamon
150g dark muscovado sugar
60g caster sugar
1 handful dried cranberries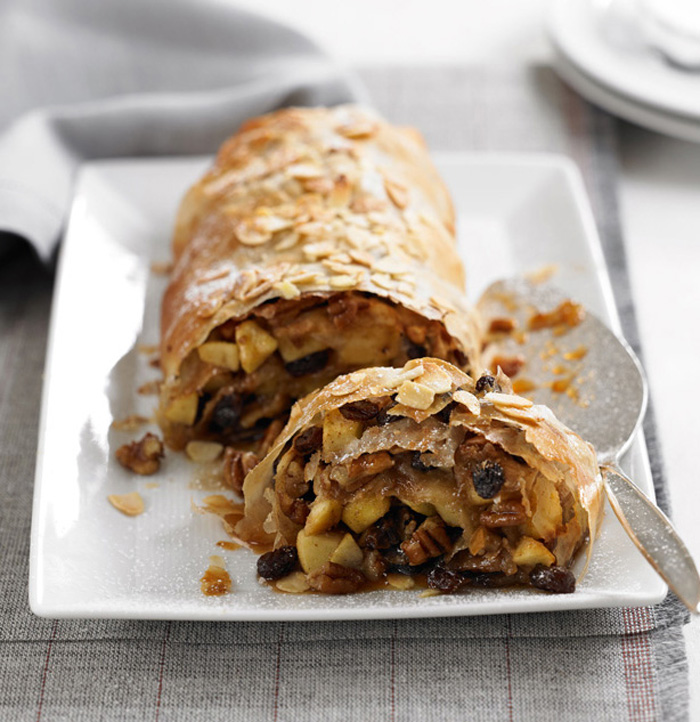 Method
Preheat the oven to 180°C/350°F/gas 4.
Peel and slice the apples thinly, and put them in a bowl of cold water with a little lemon juice to stop them going brown. Melt the butter in a small saucepan over a low heat and keep warm.
Carefully cut the filo pasty into 30 x 50cm sheets with a knife. Mix the pecans, cinnamon and dark muscovado sugar together.
Lay the first sheet of filo pasty on a clean tea towel on your work surface and brush with melted butter. Sprinkle over a third of the pecan mixture. Lay another sheet of filo pastry on top, brush with butter and sprinkle again with a third of the pecan mixture. Repeat with the third sheet and top everything with the fourth sheet.
Drain your apples well and toss with the caster sugar and drained cranberries. Spread them out along one edge of the top sheet of filo pastry. Brush the opposite edge with a little water. Starting at the edge with the apple mixture on, gently lift the edge of the tea towel and use it to help you roll the pastry up lengthways like a Swiss roll – the apples will end up at the centre. Once it's all rolled up, press your strudel together gently.
Place it on a baking try and bake in the preheated oven for about 20 minutes or until golden brown. Serve with some Swedish Glace vanilla ice cream.
Sign up
Receive our free e-cookbook plus email tips & support.