It's Pancake Day! This year, why not give one of these totally delicious plant-based recipes a try?
Shrove Tuesday is traditionally meant for clearing out your cupboards of rich, fatty foods like eggs, butter and milk (the traditional ingredients of a pancake batter), so you can avoid them during Lent, which starts the next day. However, our fave vegan recipes can be enjoyed guilt-free on Pancake Day and means you don't even need to give anything up for Lent!
These banana pancakes are the best. No eggs or butter, but still fluffy, tasty and easy to knock up for breakfast, brunch or dessert – even more delicious when topped with maple syrup and fresh berries. 
Pancakes for dinner? Yes please! Why not give these creamy mushroom crȇpes a go? The filling is so creamy, so garlicky and so delicious.
These chai latte pancakes will warm the cockles of your heart, or at least satisfy your stomach!
Blueberry pancakes, is there a more of a classic? This vegan version is better than the original and cruelty-free!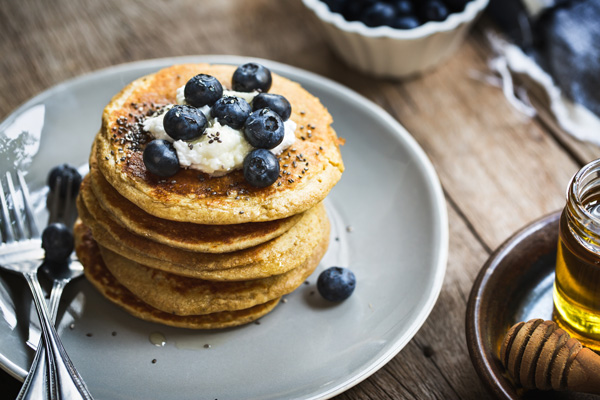 High-protein, delicious and perfect for breakfast or dinner. A chickpea flour pancake with salsa, avo, hummus and a cashew cream!   
We couldn't compile a list of pancakes without a chocolate one. These chocolate chip pancakes served with ice-cream are a perfect treat for Pancake Day dessert. 
And of course, the traditional English pancake sprinkled with sugar, then rolled up with a squeeze of lemon juice. Who could say no?  
Do you have a favourite pancake recipe? Share it with us in the comments below!
Sign up
Receive our free e-cookbook plus email tips & support.