It's #WorldPlantMilkDay! Celebrate with some of our favourite dairy free products.
Today is the first ever #WorldPlantMilkDay; a day to celebrate and appreciate all the incredible dairy free milks and products out there that taste amazing, but harm no animals in the making.
Whether your dietary choices are for the animals, for your health, the planet, or myriad other reasons, there's one thing we can all agree on; cruelty free dairy alternatives are plentiful and delicious!
"Milks"
Soy, Almond, Cashew, Coconut, Macadamia, Oat, Rice, Hemp, the list goes on and the choice is yours! But, here are a few of our favourites:
For coffee you can't beat Oatly Barista. Designed especially for hot drinks, it definitely won't curdle. Bonsoy is also delicious and a close second, followed by Alpro Coconut for professionals if you prefer more of a coconut flavour. Both are widely available at all the major supermarkets and health food shops too. And for the tea leaves out there we recommend Alpro's organic soya milk.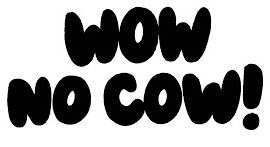 If you're baking or cooking almost any milk will work, but Rebel Kitchen Mylk is particularly good for sweet bakes, alongside Califa Farms. Great for cereals and porridge are Rice Dream, Koko, Almond Breeze, and Provamel's selection.
Of course, everyone has their own preferences and taste buds but for the best products, avoid those with a huge list of ingredients. Often those with the simplest ingredients are the best tasting and better for you!
"Cheese" 
A more recent foray into dairy free eating is the world of plant based cheeses. And with the  addition of Sainsbury's very own "Gary" range, it's a world we want to live in. Try the caramelised onion "chedder" or the feta-esque "Greek style" for a delicious coconut based cheese board.
And Sainsbury's aren't the only ones with their very own line of free from cheese, try Tesco soya based "smoked soya" for an alternative to hard smoked cheese.
Our other faves include Violife's parmesan and Vegusto's No-Moo Piquant for incredible pizzas and cheese toasties. And for a simple cashew nut "cream cheese" you can make at home, try this little gem. Follow Your Heart's Smoked Gouda and Pepperjack slices available at Ocado, Whole Foods Market and health food stores are also delicious. Both melt under the grill and are perfect for sandwiches or served on a burger.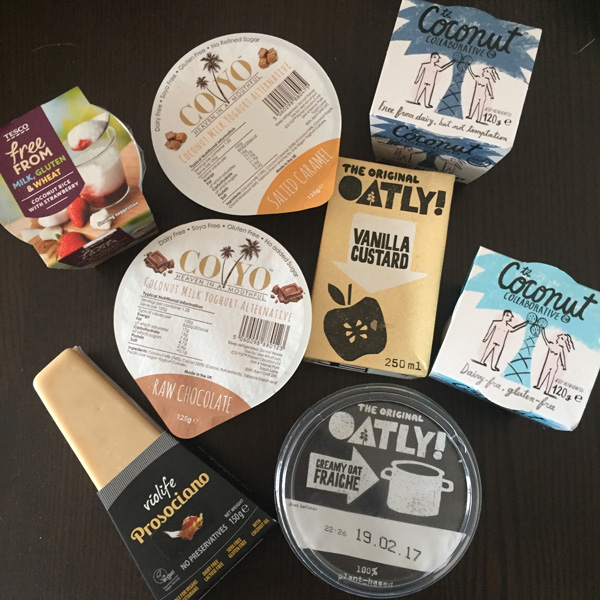 Yogurt, butter, ice-cream and more!
How can you replace your favourites? Well, pretty easily actually.
Try the Coconut Collaborative's selection of dairy free yogurts and desserts. Their little chocolate pots are particularly good, as are their ice-creams! Co-yo's raw chocolate yogurt is a close competitor, and their selection of coconut milk yoghurts are so versatile and delicious. You can easily swap these in any recipe that requires natural yoghurt.
Perfect alternatives to butter include Vitalite's dairy free spread, Flora dairy free and Pure's range. Great for cooking, baking and spreading. Own brand options can also be found in Sainsburys, Waitrose and Tesco.
Booja Booja ice-cream is perfect for an indulgent treat. With less pricey but still delicious options including Almond Dream's mint choc or salted caramel flavours, Swedish Glace and Alpro. Of course we also love Ben and Jerry's vegan range and vegan Cornetto.
Oatly's also has a range of cream, crème fraiche and custard. Available at Tesco's and health food stores across the country, the crème fraiche can be used in sauces, instead of soured cream in Mexican recipes and as a side with pancakes or desserts. Oaty deliciousness.
We can't name them all, but look out for Alpro's custards and creams, Koko's yoghurt and own brand ranges in the major supermarkets.
With the demand for plant based products on the rise, and big brands catching on, we can't wait for even more cruelty free options hitting the supermarket shelves this year. Let us know what your favourites are on FB and Twitter, and in the comments below.
Bon Appetite!
Sign up
Receive our free e-cookbook plus email tips & support.