The Christmas sandwiches have arrived on the UK high street! And this year we are being a little spoilt.
It's not even December yet, but almost all our favourite sandwich spots already have a festive vegan sandwich on their shelves. Ready, steady, eat!
Pret a Manger have come up trumps with their vegan Christmas offering; The Very Merry Christmas Lunch. Combining vegan stuffing with carrots, onion, caramelised pecans and a port and orange cranberry sauce, it's sure to be a crowd pleaser. This is of course alongside their current vegan mac and greens, chakalaka wrap, avocado and chipotle chickpeas wrap, artichoke, olives and tapenade baguette and salad boxes. As well as their chocolate chia pot and vegan brownie.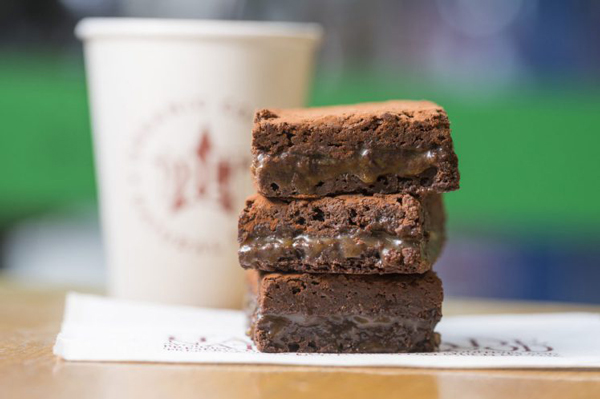 Eat have a surprising selection of vegan options including a Christmas sandwich, with roasted butternut squash, seedy stuffing and slaw. Their other options include a vegan houmous wrap, and a grilled butternut, chickpea and harissa flatbread. Also try their coronation cauliflower sandwich and their avo-choc shot or mango and chia coconut pudding for dessert.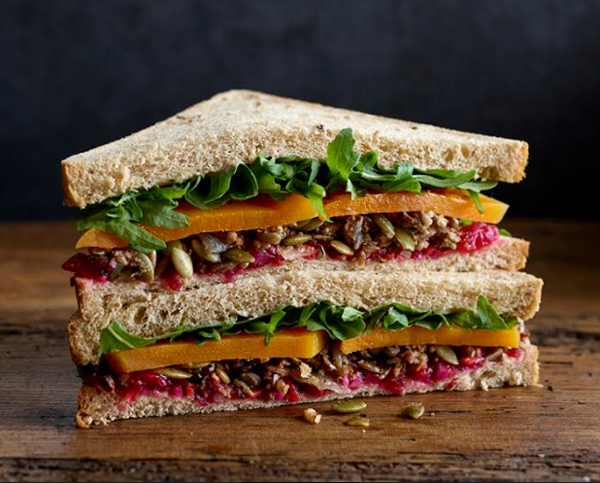 Who'd have thought that M&S would include a vegan option in their Christmas range, well in 2017 its happened! The Chestnut Roast Wrap includes grapes and cranberry chutney in a red pepper wrap. Alongside their Super Green and Rainbow Veg sandwiches we are (almost) spoilt for choice.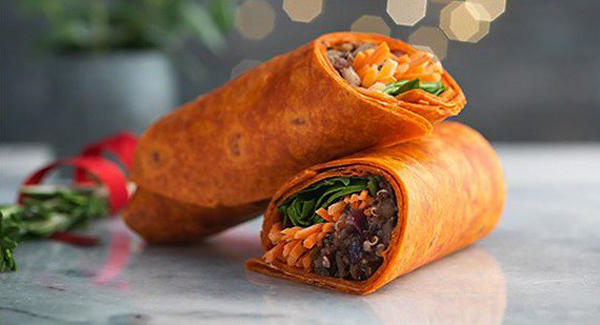 Boots have upped the ante this year and included 2 vegan Christmas sandwiches in their meal deal. The Parsnip Fritter and Butternut Squash and Festive Falafel sandwiches sounds like a lunch we want to eat.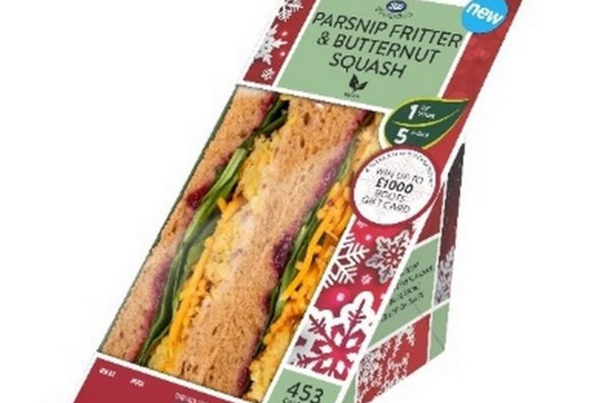 Caffé Nero have also realised that there's more to Christmas than Turkey this year with their falafel, chestnut and spiced slaw wrap. Followed by their vegan mince pie, that's a pretty satisfying lunch.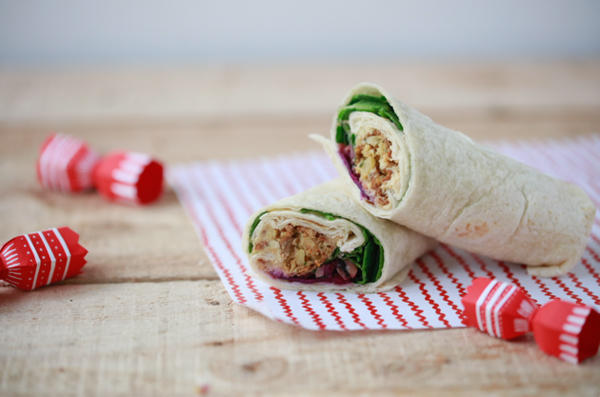 And if all that wasn't enough, Tesco are also joining in on the festive fun with their first vegan Christmas sandwich. The Finest* bubble and squeak roll has fritters, red cabbage, sage and onion stuffing and vegan mayo. The best bit is it comes with a sachet of coconut bacon to sprinkle inside! A-ma-zing.
Here's to the best Christmas sandwiches yet! We're sad to see Starbucks and Sainsburys are yet to make the list, particularly given that both have embraced vegan food this year, but there's always next year.
Tell us which is your favourite in the comments below and from all of us at Love Veg have a fabulous festive period!
Sign up
Receive our free e-cookbook plus email tips & support.