Holidays are coming!
We're gearing up for a food-filled holiday season! Check out our recommendations below and tell us your favourites in the comments.
This year we've arrived in an incredible future where vegan Christmas sandwiches are available on every high street and each supermarket has an extensive range of Christmas food. We can put on a festive lunch that even the most committed carnivores will enjoy, whilst sparing our wonderful turkey friends from suffering, like those we filmed during our investigation last Christmas.
Topping our list is the 'No Turkey' roast from Marks and Spencer. Part of the ULTIMATE range for Christmas, the roast comes with 'no-pork' cocktail sausages and gravy. If plant-based meat isn't your bag, they also have a luxury nut roast with butternut, almond and pecan nuts that comes with a red wine and thyme gravy, or a root vegetable tarte tatin.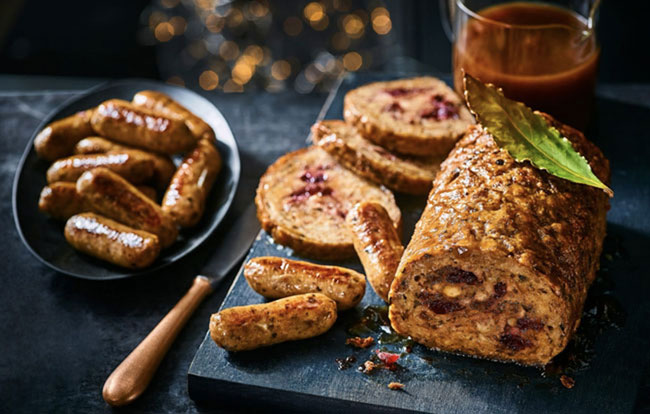 Waitrose too has a huge range of mouth-watering dishes, such as the vegan festive ring; apple, cranberry, mushroom and leek bangers with a stuffing and crunchy parsley crumb; and a smoky, creamy Root En Croute. Tesco shoppers will find vegan pigs in blankets; a butternut squash, mushroom and chestnut Wreath; carrot and thyme tarte tatin; and a sweet potato and red cabbage Christmas log.

Aldi has also joined the party with a vegan pastry centerpiece and nibbles, including jackfruit bao buns, sausage rolls and tempura vegetables. This year Asda has a much larger range of festive food including cocktail sausages, a vegetable wellington and vegan stuffing balls. Their chocolate torte is back again with a new raspberry version, as well as their tasty chocolate and caramel swirl desserts! Their ever popular mince pies are also back on the shelves.

And if Morrisons is your supermarket of choice, you'll find chicken style skewers, BBQ jackfruit mini-burgers and vegetable chilli burritos for your holiday party, as well as mushroom steamed buns and a layered vegetable tart in their 'The Best' range for your holiday lunch.

But wait, there's more! Sainsbury's have new festive additions to their impressive vegan range. Oggs has launched luxury handmade mince pies; Linda McCartney is offering a cranberry and turkey plait; and Leon has released a new range of mayonnaise and condiments. They're all on the shelves ready for the festive season. Sainsbury's have also added a whole host of festive vegan recipes to their website in preparation for the holidays and don't forget to check out our Love Veg recipes for the big day.
So, get out of the office, head to the shops and fill your shopping bags with plant-based treats. It's going to be a holly, jolly (filling) Christmas!

Sign up
Receive our free e-cookbook plus email tips & support.