Carrot bacon is our new favourite thing
When you transitioned to a plant based diet, you might have thought that you were waving goodbye to smoky, crispy, sweet bacon. Right? Wrong. We have a recipe to share with you that is easy, healthy and oh so delicious. BLT anyone?
Ingredients (serves 4)
4 large carrots, shaven into strips with a vegetable peeler
For the BBQ sauce:
2 tbsp tomato puree, 1 tbsp maple syrup, 1 tbsp soy sauce, 2 tsp dried thyme, couple of drops of liquid smoke, 2 tsp garlic granules, 2 tsp onion granules, 2 tsp sweet paprika, 2 tbsp olive oil, salt and pepper to taste.
Directions
Preheat your oven to 200 degrees.
Mix all of the BBQ sauce ingredients together in a large bowl. Add your carrot to the bowl and mix until the carrot is coated in the sauce.
Cover a large baking tray with greaseproof paper and line your carrot strips up on it (you might need more than one tray).
Bake for 10 mins.
When it's crispy and charred on the edges it ready to be put into a sandwich with lots of mayo, pickles and salad.
Enjoy!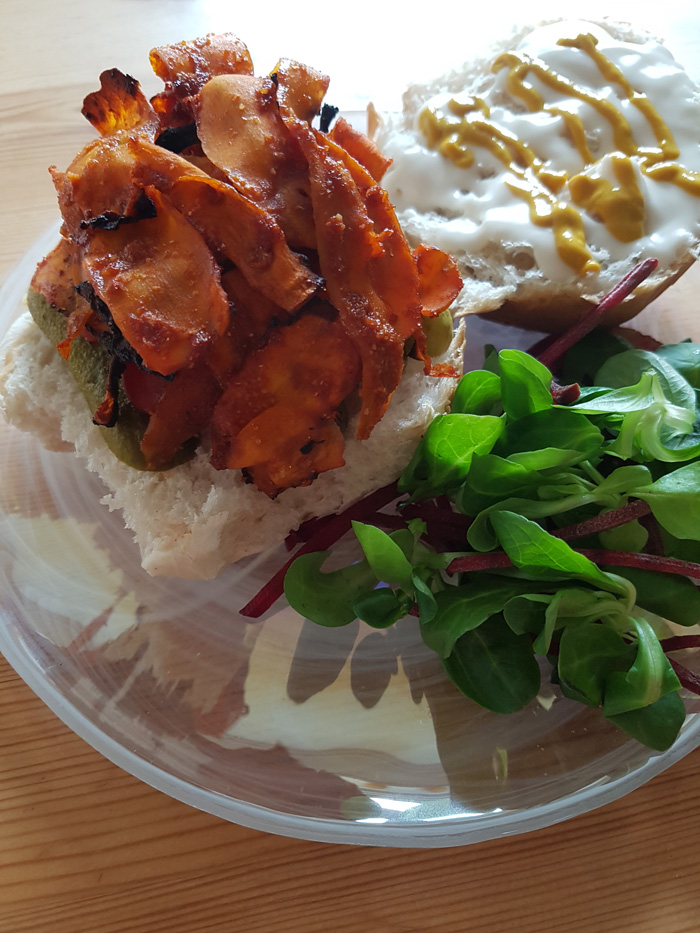 Sign up
Receive our free e-cookbook plus email tips & support.